Regular price
Sale price
$57.99 USD
Unit price
per
Sale
Sold out
Share
Complete B Complex Discussion Sheet Download
- Optimal Methylation Support Formula*
- Supports Cardiovascular and Neurological Health*
- Supports the Maintenance of Healthy Homocysteine Levels Already Within Normal Range*
- Supports Healthy Methylation of Estrogen, Dopamine, Epinephrine, Heavy Metals, and Environmental Toxins*
Complete B Complex is a comprehensive formula designed to support optimal methylation and help maintain healthy homocysteine levels already within normal range. It features five key nutrients that are involved in homocysteine metabolism: folate as calcium folinate and Quatrefolic® for increased bioactivity; trimethylglycine; and vitamins B12, B6, and B2. These five nutrients, provided in activated forms, support enhanced methylation and overall cardiovascular health.*
B vitamins play a crucial role in many physiological processes in the body, including the conversion of food into energy, the synthesis of neurotransmitters, and the maintenance of healthy skin, hair, and nails. They are also important for maintaining healthy levels of homocysteine, a compound that can be harmful to the body in high levels.
Purety Complete B Complex is suitable for adults of all ages and can be used as a natural remedy for supporting energy levels and overall health and wellbeing. It is free from artificial colors, flavors, and preservatives and is easy to administer, with a recommended dosage of one capsule daily, preferably with a meal.
Overall, Purety Complete B Complex is a natural dietary supplement that contains a full spectrum of B vitamins that are essential for energy production, healthy nervous system function, and overall health and wellbeing. While more research is needed to fully understand the effects of these natural ingredients on human health, B vitamins have been shown to be important for many physiological processes in the body and may be a valuable addition to a healthy lifestyle.
Ingredients:

Folate (as calcium folinate and Quatrefolic®)
Trimethylglycine
Vitamin B12
Vitamin B6
Vitamin B2

Benefits:

Supports optimal methylation
Helps maintain healthy homocysteine levels already within normal range
Supports cardiovascular and neurological health
Supports healthy methylation of estrogen, dopamine, epinephrine, heavy metals, and environmental toxins
Supplement Facts

Serving Size: 1 Capsule
Servings Per Container: 120
Formulated to Exclude

Wheat, gluten, corn, yeast, soy, animal or dairy products,
fish, shellfish, peanuts, tree nuts, egg, ingredients derived from genetically modified organisms (GMOs), artificial colors, artificial sweeteners, or artificial preservatives.
View full details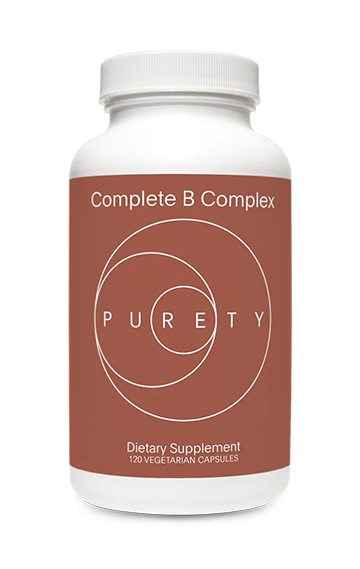 Let customers speak for us
Shipping and Returns

Enjoy free shipping on orders $120+. 90 day risk-free returns available within policy.