Regular price
Sale price
$47.99 USD
Unit price
per
Sale
Sold out
Share
Clinical Applications
• Supports Enhanced Berberine Activity*
• Supports Healthy Blood Glucose Metabolism*
Berberine DHB features dihydroberberine (DHB), a highly bioavailable metabolite of berberine with demonstrated benefits for blood glucose metabolism. Berberine naturally occurs in several plant species used extensively in traditional Ayurvedic and Chinese herbal practices; DHB is the natural bioactive form of berberine.*
All Purety Family Medical Clinic Formulas Meet or Exceed cGMP Quality Standards
Purety Berberine DHB is a dietary supplement that contains berberine, a natural compound found in a variety of plants. Berberine has been shown to have a number of potential health benefits, including supporting healthy blood sugar levels, promoting weight loss, and improving heart health.
One unique feature of Purety Berberine DHB is that it contains a form of berberine called dihydroberberine (DHB), which has been shown to be more easily absorbed by the body than other forms of berberine. This increased absorption may allow for greater benefits and a lower effective dose of berberine compared to other forms.
In addition to its potential benefits for blood sugar control and weight loss, berberine has also been shown to have anti-inflammatory and antimicrobial properties, making it potentially beneficial for supporting immune function and fighting infections.
Purety Berberine DHB is typically taken as a dietary supplement in capsule form, with dosages varying depending on the individual's needs and health goals. It is important to speak with a healthcare provider before starting any new dietary supplement, especially if you are currently taking medication or have any underlying health conditions.
Overall, Purety Berberine DHB is a dietary supplement that contains a natural compound with a variety of potential health benefits. While more research is needed to fully understand the effects of berberine on human health, it may be a valuable addition to a healthy lifestyle for those looking to support healthy blood sugar levels, promote weight loss, or improve overall health and well-being.
Supplement Facts

Serving Size: 1 Capsule
Servings Per Container: 60

Formulated to Exclude

Wheat, gluten, corn, yeast, soy, animal and dairy products, fish, shellfish, peanuts, tree nuts, egg, sesame,
ingredients derived from genetically modified organisms (GMOs), artificial colors, artificial sweeteners, and
artificial preservatives.
View full details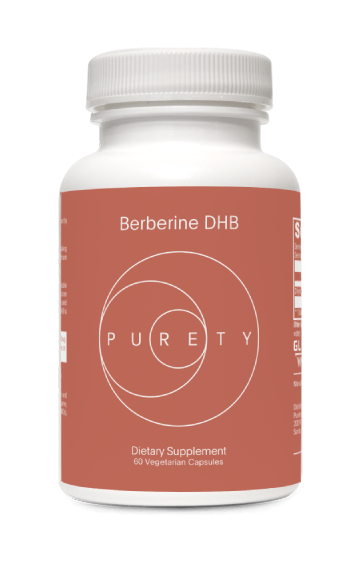 Let customers speak for us
Shipping and Returns

Enjoy free shipping on orders $120+. 90 day risk-free returns available within policy.