Regular price
Sale price
$19.99 USD
Unit price
per
Sale
Sold out
Share
Purety L-lysine is a dietary supplement that provides L-lysine, an essential amino acid that cannot be produced by the body and must be obtained through diet or supplements. L-lysine is involved in the synthesis of proteins and collagen, and it is important for the maintenance of healthy bones, skin, and connective tissue.
Some benefits of L-lysine supplementation include:
Supporting the immune system
Supporting skin health
Supporting cardiovascular health
Supporting bone health
Helping to reduce anxiety and stress
Supporting healthy energy levels
Purety L-lysine capsules contain 500 mg of L-lysine per capsule, and the recommended dosage is one to two capsules per day, unless otherwise directed by a healthcare practitioner. The capsules are vegetarian-friendly and free of common allergens, such as gluten, soy, and dairy.
Here are the details about Purety L-lysine:
Ingredients:
Benefits:

Supports the immune system
Helps to heal cold sores
Promotes wound healing
Reduces the risk of herpes outbreaks

Dosage:

Take 1-2 capsules daily, with or without food.
Overall, Purety L-lysine is a natural supplement that can help to support the immune system and promote wound healing. It is made with a high-quality form of L-lysine that is easily absorbed by the body. The product is safe for most people to use, but it is important to talk to your doctor before taking it if you have any underlying health conditions. Here are some additional details about the benefits of L-lysine:
Immune system:

 

L-lysine is an essential amino acid that helps to support the immune system. It plays a role in the production of antibodies and other immune cells. L-lysine may also help to reduce the risk of infection.
Cold sores:

 

L-lysine is often used to treat cold sores. It can help to shorten the duration of a cold sore outbreak and reduce the severity of symptoms.
Wound healing:

 

L-lysine is also beneficial for wound healing. It helps to promote the production of collagen, which is a protein that helps to repair tissues. L-lysine may also help to reduce the risk of infection at a wound site.
Herpes:

 

L-lysine may also help to reduce the risk of herpes outbreaks. Herpes is a viral infection that causes cold sores and genital herpes. L-lysine may help to suppress the virus and reduce the frequency of outbreaks.
Supplement Facts

Serving Size: 2 Capsules
Servings Per Container: 45
Formulated to Exclude

Wheat, gluten, corn, yeast, soy, animal or dairy products, fish, shellfish, peanuts, tree nuts, egg, ingredients derived from genetically modified organisms (GMOs), artificial colors, artificial sweeteners, or artificial preservatives.
View full details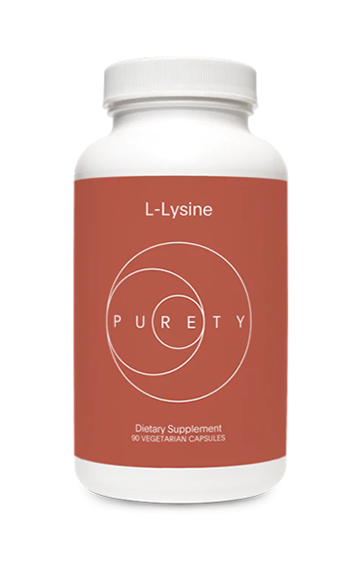 Let customers speak for us
Shipping and Returns

Enjoy free shipping on orders $120+. 90 day risk-free returns available within policy.