Regular price
Sale price
$58.99 USD
Unit price
per
Sale
Sold out
Share
Download the Joint Support Discussion Sheet
Nourishing and Supporting Joint Structures*
 - Helps Maintain Healthy Joints*
- Provides Joint Tissue Building Blocks*
- Supports a Healthy Joint Environment by Influencing the Activity of Cytokines, Catabolic Enzymes, and Oxidative Molecules*
 Joint Support is designed to bolster what years of joint use can threaten in active individuals. This breakthrough formula contains critical joint building blocks and other nutrients that work cooperatively to nourish joint tissues and maintain a healthy joint environment. Let SynovX DJD help you stay active!*
Please note: This formula contains green-lipped mussels, and the capsules do smell of mussels.  If you think you can not tolerate that then please avoid this product.  Otherwise, it is a wonderful product and it is truly helpful.
Purety Joint Support 120 capsules is a natural supplement that can help to support joint health and function. It is made with a blend of ingredients that have been shown to be effective in reducing joint pain and inflammation, improving joint mobility and flexibility, and rebuilding and repairing damaged cartilage.
The ingredients in Purety Joint Support 120 capsules include:
Green-lipped mussel extract: Green-lipped mussels are a type of mussel that is native to New Zealand. They contain high levels of glucosamine and chondroitin, two nutrients that are essential for joint health.
Glucosamine hydrochloride: Glucosamine is a naturally occurring substance that helps to build and repair cartilage.
Chondroitin sulfate: Chondroitin is another naturally occurring substance that helps to build and repair cartilage.
MSM (methylsulfonylmethane): MSM is a sulfur-containing compound that has been shown to reduce inflammation and pain.
Hyaluronic acid: Hyaluronic acid is a substance that helps to keep joints lubricated and cushioned.
Boswellia serrata extract: Boswellia serrata is an herb that has been used for centuries to treat inflammation.
Turmeric extract: Turmeric is a spice that contains curcumin, a compound that has powerful anti-inflammatory properties.
Bromelain: Bromelain is an enzyme that is found in pineapples. It has been shown to reduce inflammation and pain.
Ginger root extract: Ginger root is a spice that has anti-inflammatory and pain-relieving properties.
Vitamin C: Vitamin C is an essential nutrient that helps to protect cells from damage.
Manganese: Manganese is a mineral that is essential for the production of connective tissue.
Vitamin D3: Vitamin D3 is essential for the absorption of calcium and phosphorus, which are both important for joint health.
Purety Joint Support 120 capsules is a safe and effective supplement for most people. However, it is important to talk to your doctor before taking it if you have any underlying health conditions.
Ingredients:

Green-lipped mussel extract
Glucosamine hydrochloride
Chondroitin sulfate
MSM (methylsulfonylmethane)
Hyaluronic acid
Boswellia serrata extract
Turmeric extract
Bromelain
Ginger root extract
Vitamin C
Manganese
Vitamin D3

Benefits:

Supports joint health and function
Reduces joint pain and inflammation
Improves joint mobility and flexibility
Rebuilds and repairs damaged cartilage
Supplement Facts

Serving Size: 2 Capsules
Servings Per Container: 60
Formulated to Exclude

Wheat, gluten, yeast, soy, dairy products, fish, peanuts, tree nuts, egg, ingredients derived from genetically modified organisms (GMOs), artificial colors, artificial sweeteners, and preservatives.
View full details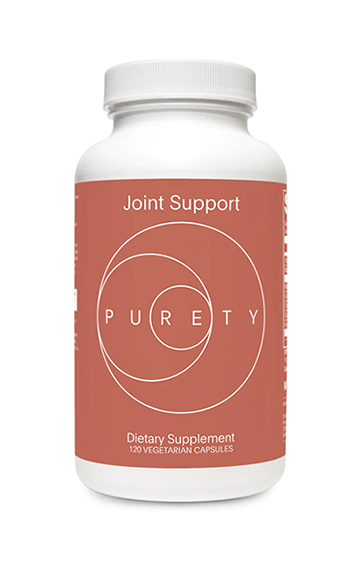 Let customers speak for us
Shipping and Returns

Enjoy free shipping on orders $120+. 90 day risk-free returns available within policy.