Regular price
Sale price
$34.99 USD
Unit price
per
Sale
Sold out
Share
Download Complete C Discussion Sheet
Clinical Applications
 - Antioxidant support*
- Healthy Connective Tissue and Blood Vessel Synthesis*
- Support of Normal Immune System Function*
- Synthesis of Carnitine, Neurotransmitters, and Collagen*

Complete C combines high-potency vitamin C with a standardized, full-spectrum, citrus bioflavonoid complex. Both vitamin C and bioflavonoids have been extensively researched for their roles in supporting antioxidant and immune function. In addition, research indicates that vitamin C is required for the synthesis of collagen, neurotransmitters, and carnitine. Bioflavonoids appear to support healthy metabolism and cognition by functioning as cell-signaling agents.*
All Purety Family Medical Clinic Formulas Meet or Exceed cGMP Quality Standards
Vitamin C is essential for the synthesis of collagen, a protein that is important for healthy skin, hair, and nails. It is also important for the absorption of iron, the synthesis of neurotransmitters, and the maintenance of healthy immune function. As an antioxidant, vitamin C helps to protect the body against free radicals, which can damage cells and contribute to aging and disease.
Purety Complete C is suitable for adults of all ages and can be used as a natural remedy for supporting immune function and overall health and wellbeing. It is free from artificial colors, flavors, and preservatives and is easy to administer, with a recommended dosage of one capsule daily, preferably with a meal.
Overall, Purety Complete C is a natural dietary supplement that contains a high-potency blend of vitamin C that supports immune function and overall health and wellbeing. While more research is needed to fully understand the effects of vitamin C on human health, it is an important nutrient that is essential for many physiological processes in the body and may be a valuable addition to a healthy lifestyle.
Ingredients:

Vitamin C (ascorbic acid)
Citrus bioflavonoids

Benefits:

Antioxidant support
Healthy connective tissue and blood vessel synthesis
Support of normal immune system function
Synthesis of carnitine, neurotransmitters, and collagen
Supplement Facts

Serving Size: 1 Capsule
Servings Per Container:
Formulated to Exclude

Wheat, gluten, yeast, soy, animal and dairy products, fish, shellfish, peanuts, tree nuts, egg, ingredients derived from genetically modified organisms (GMOs), artificial colors, artificial sweeteners, and artificial preservatives
View full details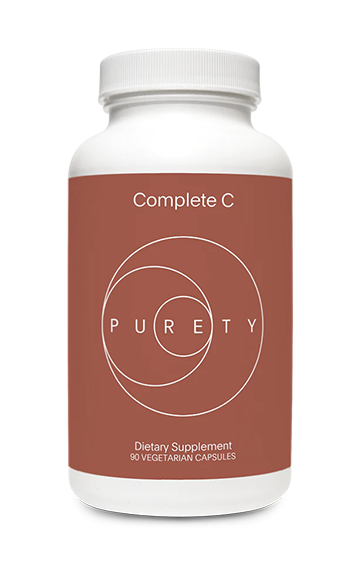 Let customers speak for us
Shipping and Returns

Enjoy free shipping on orders $120+. 90 day risk-free returns available within policy.